*We may earn a commission for purchases made using our links. Please see our disclosure to learn more.
If you are someone who is always out and about in the city, you are probably looking for the best and the most practical way to commute. Perhaps something that will help beat the traffic and let you cruise through the streets. Well, that's exactly what you can expect from an electric scooter.Besides, quitting the same old modes of transportation and switching to modern and innovative scooters is all the rage right now. This is why, here I am going to talk about some of the best electric scooters that are there in the market.
Introduction to Electric Scooters
E-scooters are among the latest micro-mobility devices which have gained immense popularity as convenient personal transportation. Over the past few years, many people have opted for electric scooters, and not only because these are the coolest way to get around town.
There are a plethora of other benefits of riding an e-scooter such as the fact that they are highly cost-effective. You can buy one of these at a relatively cheaper price than a car. Plus, you don't have to pay for gas, car accessories, or expensive maintenance.
But the biggest reason people like me love electric scooters is because they are eco-friendly. Shifting to these from your conventional vehicles is a great way for you to reduce your carbon footprint. So, what are you waiting for?
Top 5 Electric Scooters for Adults
Since electric scooters are super-stylish, cheaper, and good for our environment, they are bound to get popular. However, with the rising demand, the number of e-scooter manufacturers has grown as well.
So, I decided to list out the five best electric scooters for you to choose from. Find out everything you need to know about these scooters and pick the one that suits your needs.
The number one scooter on my list is the Megawheels S10 electric scooter. With a max speed of 15.5MPH, this foldable scooter is the best way to go from one place to another quickly. The S10 comes with 3 gears which can be changed effortlessly while riding with just a click of a button on the LED display at the top.
Another impressive feature of this scooter is its 8-inch honeycomb shock-absorbing tires with an anti-slip effect that makes your ride even safer. Moreover, these tires do not require inflation or maintenance of any kind making it a significant highlight of this scooter.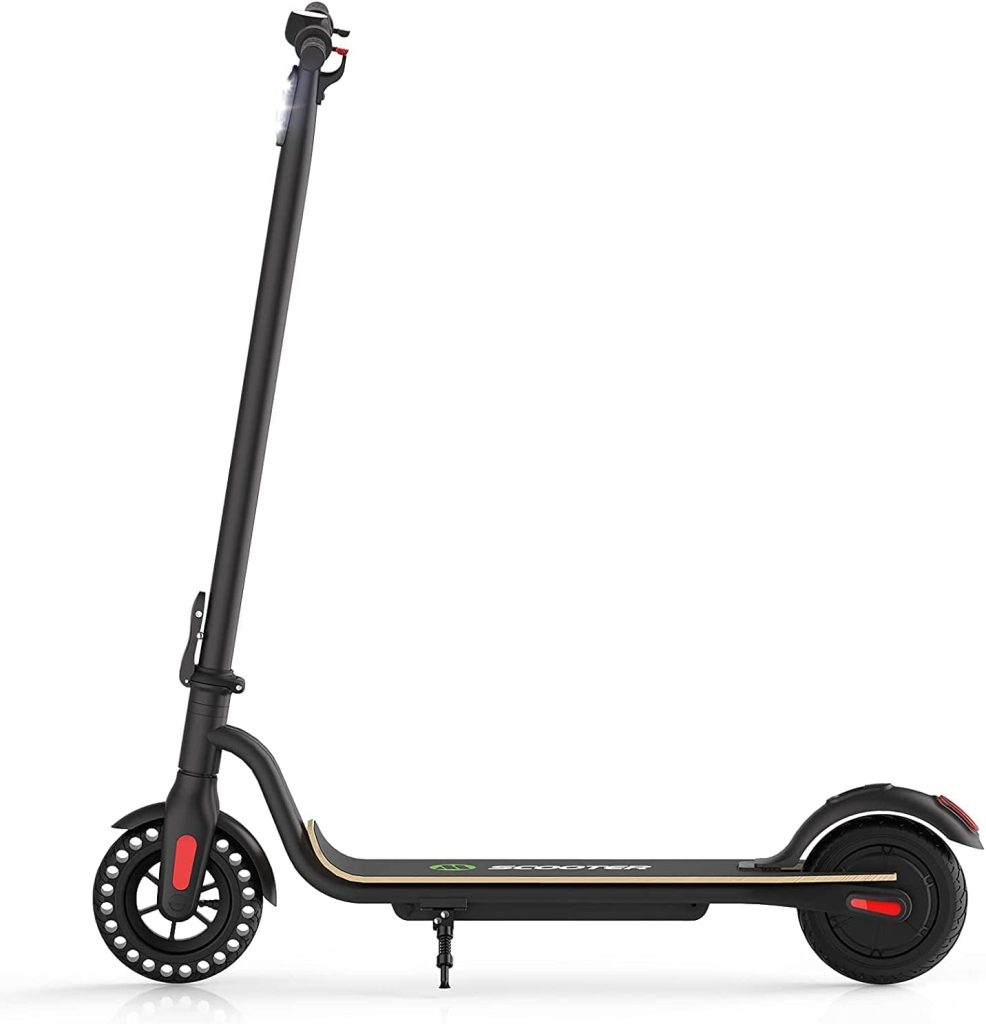 Further, your Megawheels S10 scooter is the perfect combination of style and power. The compact and elegantly designed scooter has a 7.5 Ah lithium-ion battery and up to 12-17 miles range. Now, speaking of its safety features, you can find a dual brake system in the S10 scooter. It means it has a motor electronic brake on the handlebar and a foot friction brake on the back tire for extra safety.
With a long-range battery, double braking system, and its ability to fold easily, the Megawheels S10 is one of the best e-scooter options for your everyday commute.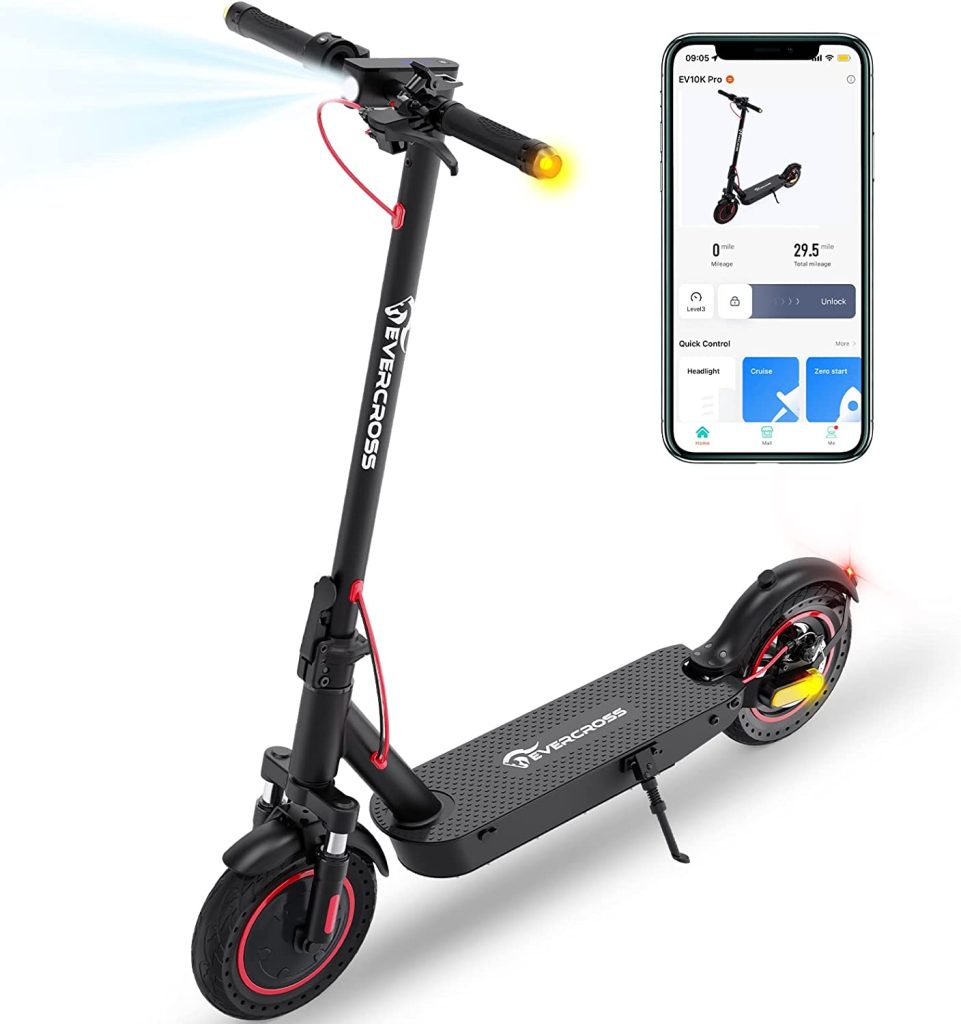 The next e-scooter for adults that has got some good ratings from buyers is the Evercross Ev10k Pro. This advanced scooter has some of the best features that make it stand out from the rest. The number one feature is the control it offers to the riders via a mobile app. You can lock and unlock the scooter, control the cruise function, and do so much more from the Bluetooth-connected application.
Additionally, it has a 500W brushless motor for longer battery life which makes it very convenient for everyday riders. This scooter can reach up to a maximum speed of 19MPH and is powerful enough to climb slopes up to 10-15 degrees. Its 11.4Ah battery capacity and amazing driving range of 22 miles are also quite impressive.
Another great highlight of Evercross Ev10k Pro is its front and rear turn signals which make it safer for you to navigate the scooter through traffic. Apart from this, the scooter's 10-inch honeycomb solid tires have front and rear double shock absorption making your riding experience smoother and more comfortable. As far as the LED dashboard is concerned, it displays the current speed, current mode, cruise control, and more.
So, if you are looking for a stylish and feature-rich e-scooter, the Ev10 Pro is just for you.
The iScooter i9 is also one of the best electric scooters for adults that has many prominent features. This micro-mobility machine comes with a 350 Watt brushless motor and is capable of carrying 176 lbs weight. You can ride your i9 e-scooter at a top speed of 15MPH and enjoy a stable driving experience even in bumpy terrain.
It also lets you download a free mobile app and connect it with the i9 scooter via Bluetooth. Once connected, the app offers amazing options like lock/unlock, setting maximum speed, cruise control, lights on/off, etc. Additionally, this scooter has a maximum battery capacity of 7.5 Ah which can go up to 12-18 miles with a single charge hours. But that's not everything that makes the i9's battery so special.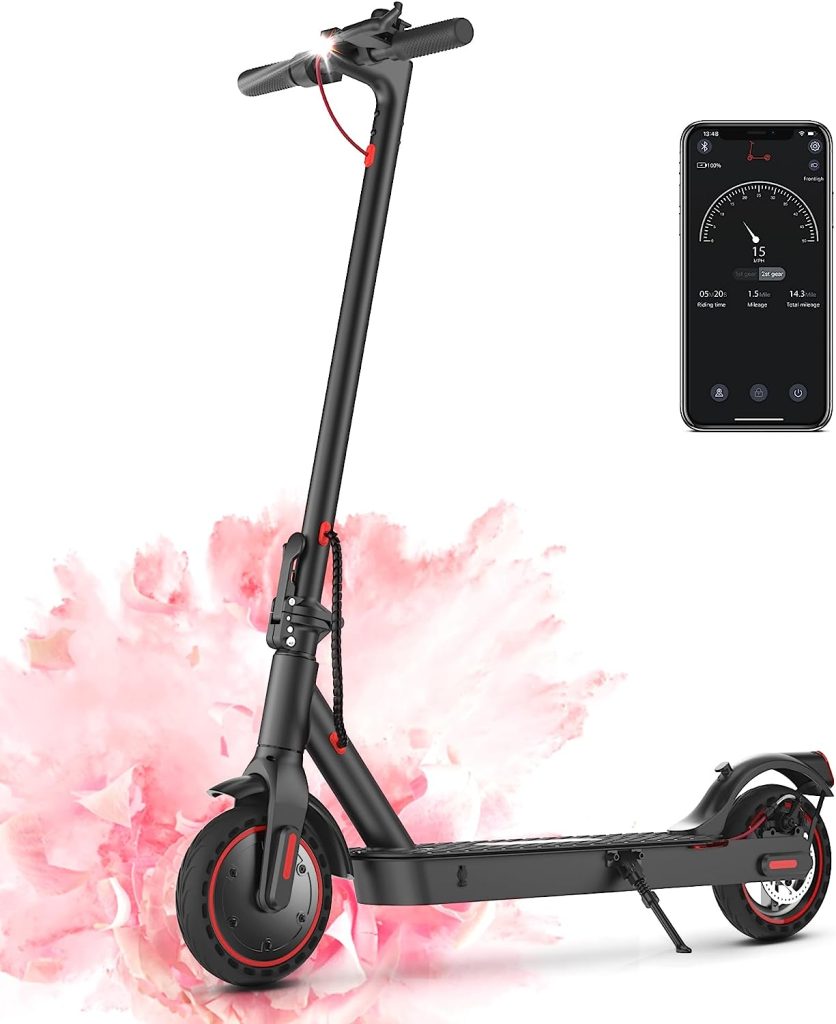 This e-scooter's smart app controller makes controlling its functions easier than ever. It has overcharge and over-discharge protection which ensures that you can charge the scooter year after year without worrying about the battery. The iScooter i9 e-scooter has 8.5-inch pneumatic shock-absorbing tires making it easier for you to ride the scooter on rough terrains comfortably.
With a long range of 17 miles, this foldable scooter is a decent option if you want a simple yet strong electric scooter.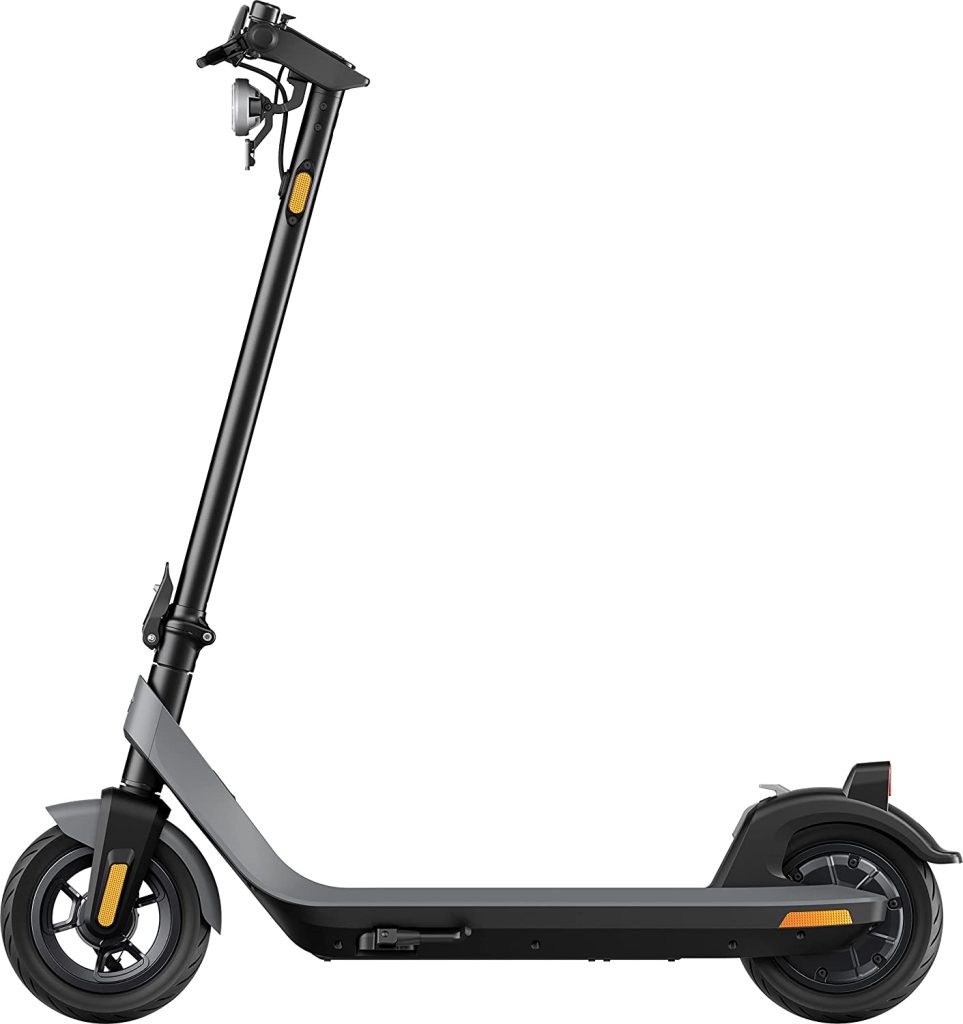 Are you searching for a strong-built portable electric scooter with advanced features? Then allow me to introduce you to the NIU KQi2 Pro e-scooter. This scooter has a 300W motor and a top speed of 17.4 MPH. But what makes it better is its 365Wh lithium battery with regenerative braking power so that you don't run out of battery too soon.
Apart from this, KQi2 Pro has a max range of 25 miles and comes with NIU-patented BMS monitors. In this e-scooter, you can expect 10-inch tubeless tires with strong shock absorption capabilities. Moreover, it has a dual braking system which ensures that you can stop safely without losing your balance even if you have to apply the brake all of a sudden.
Keeping the rider's safety in mind, your NIU KQi2 Pro electric scooter has powerful Halo highlights along with braking lights and a mechanical bell. These features become extra essential when you are riding the scooter after dark as it helps enhance visibility. Get your hands on the NIU mobile application and become a smart rider. You can use the app to check your riding stats, customize your speed, ensure your scooter's safety with automatic locks, and more.
NIU offers a 2 years warranty so that you can have peace of mind while investing in this next-gen electric scooter. Don't wait up, Buy today!
Last but not least scooter on my list is AOVOPRO ES80 electric scooter with a 350W motor and a max speed of 19MPH. It has a high-capacity battery that will allow you to ride the scooter for up to 19 miles on one full charge. Along with this, the ES80 scooter has 8.5-inch solid shock absorption tires so you don't have to worry about flat tires no matter which surface you ride it on.
The maximum weight that an AOVOPRO ES80 can take is 264 Pounds which is an average weight limit for most scooters. Now focussing on the scooter's lighting system, it comes with a front and tail light to enhance and make your night riding experience safer. This e-scooter also has impressive 20 degrees hill grade climbing capabilities. Additionally, the ES80 has a pretty secure braking system with both disc and electric brakes available.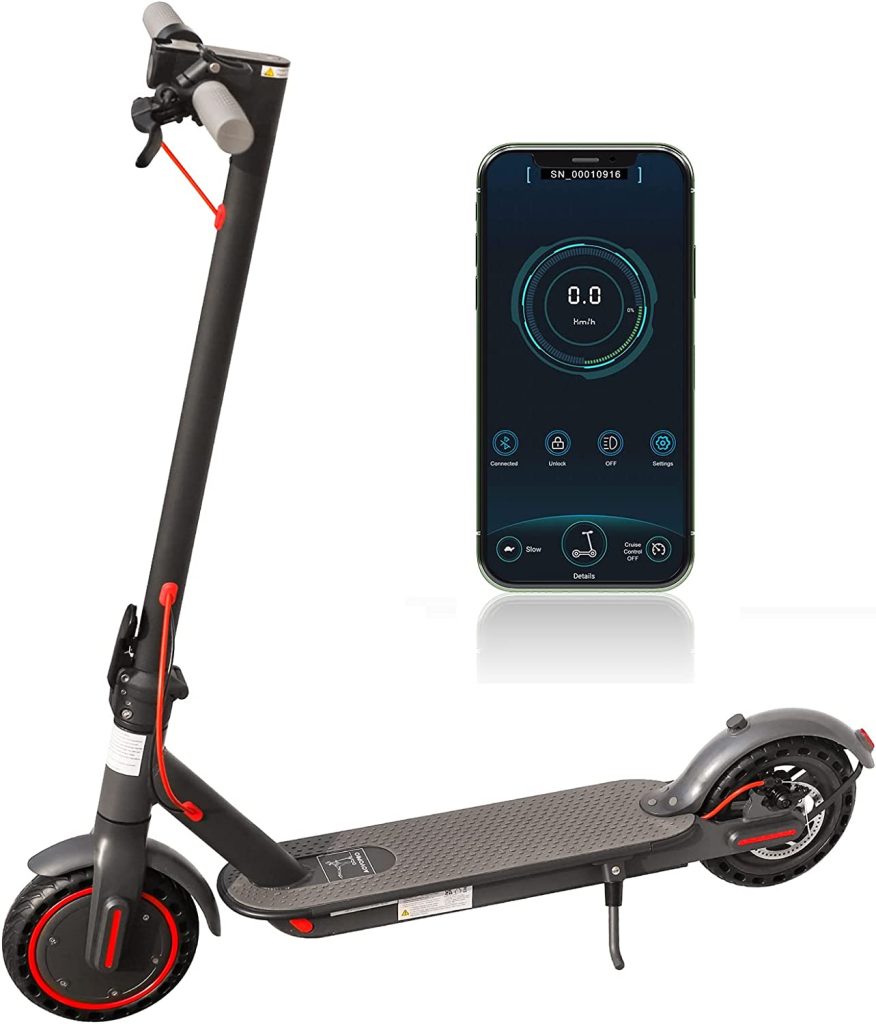 But if you are going to invest in this scooter, you will need its mobile app for better control, This modern e-scooter, much like many other offer different setting options through the application. No matter whether you need this scooter for the daily commute or occasional use, connect the scooter with the app so that you make the most of riding ES80 with maximum safety and minimum effort.
Wrapping Up
As an electric scooter enthusiast myself, I can assure you that once you start riding on these, there's no coming back. These are extremely stylish, practical, and budget-friendly as well. So, why won't you be super-excited to buy an e-scooter for yourself?
But the challenge that remains is to choose the best scooter out of all the options you have in the market. This is why I have listed out five of the best electric scooters for adults which have been rated highly by their users.
Check out the Megawheels S10, AOVOPRO ES80, Evercross Ev10k Pro, and more innovative e-scooter options, and buy one today.