*We may earn a commission for purchases made using our links. Please see our disclosure to learn more.
Imagine being out and about on a beautiful morning riding on your scooter and running errands. You go to a store, leave your scooter outside, and come back only to find that it has been stolen! If you don't want this story to become your reality, buy the best scooter and bike lock now.
Just like a headgear, safety vest, or scooter bag, bike locks are also important accessories. The need for scooter locks is even more crucial for people whose primary mode of transportation is scooters. So, we have created a list of the top scooter and bike locks in 2023 for you to buy.
Different Types of Scooter and Bike Locks
Before we jump onto the best picks for high-quality scooter locks in 2023, let's learn some more about them. Starting with the different types of locks available in the market. By familiarizing yourself with the lock types, you could buy the one that you find to be the most effective.
There are your highly popular ring locks that are used to lock up the rim of the wheel to prevent rotation. These are considered to be among the most secure safety locks as it offers improved protection over their counterparts. Next, we have the cable locks which you might have heard of.
Cable locks are affordable and very portable too. But they work best when they are used with another type of lock like D-locks. D-locks are turning out to be the most secure lock type. It is so because they attach the bike to a solid base eliminating any possibility of being stolen.
Best Scooter and Bike Locks to Keep Your Ride Safe
Nowadays, you cannot risk leaving your bike here and there in public without locking it. With the rising theft rate, as a common man, it is your job to take every necessary precautionary measure.
So, whether you bought a brand-new scooter, or already have one, it's time to buy the best lock for it. Check out my list of the best scooter and bike locks in 2023 here.
Let's kick off the list of the best electric bike and scooter locks with the 2-pack deluxe locks by Via Velo. These are 3-in-1 bike lock sets with one 33.5" HRC55 steel folding lock and two 15mm heavy-duty bike U-lock shackles. This Via Velo lock is made of stainless steel, alloy steel, rubber, and polyvinyl chloride. Also, it is a U-shaped lock system that is 11"x6" in size.
The bike folding lock open diameter is 33.5" which is an ideal size for any bike with fat tires. Further, it is fully coated with weatherproof PVC which means you don't have to worry about its durability. These safety locks can withstand any weather condition and can be your bike's safety partner for years.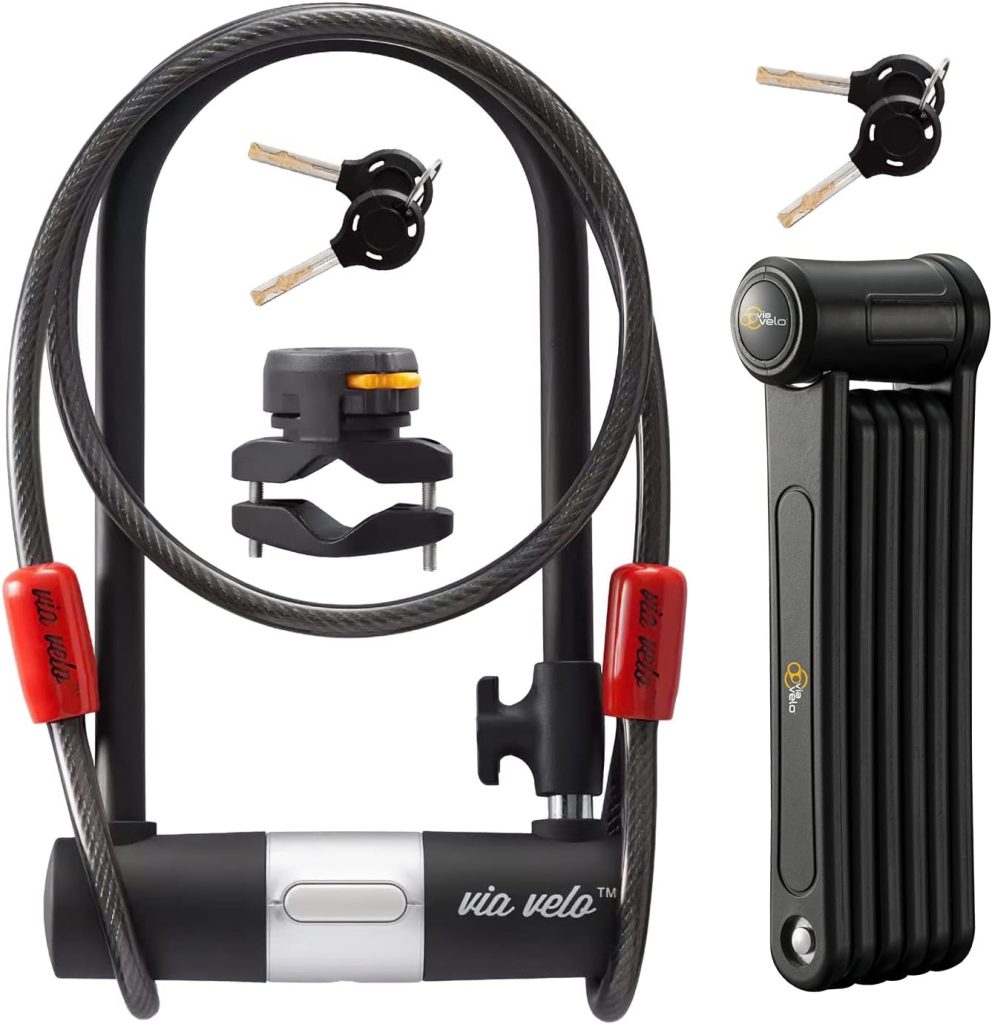 You can use this lock on all types of adult electric bikes and scooters. From your folding bikes to mountain bikes and e-scooters, this lock can protect all of these from getting stolen. Another important thing to know about the Via Velo electric bike lock set is that it is a one-key system. It means, you only need 1 key to open all the locks in the set you bought.
Via Velo 2-pack deluxe locks have been rated highly by previous customers in terms of features, sturdiness, and ease of use. So, why wait? Shop for it now.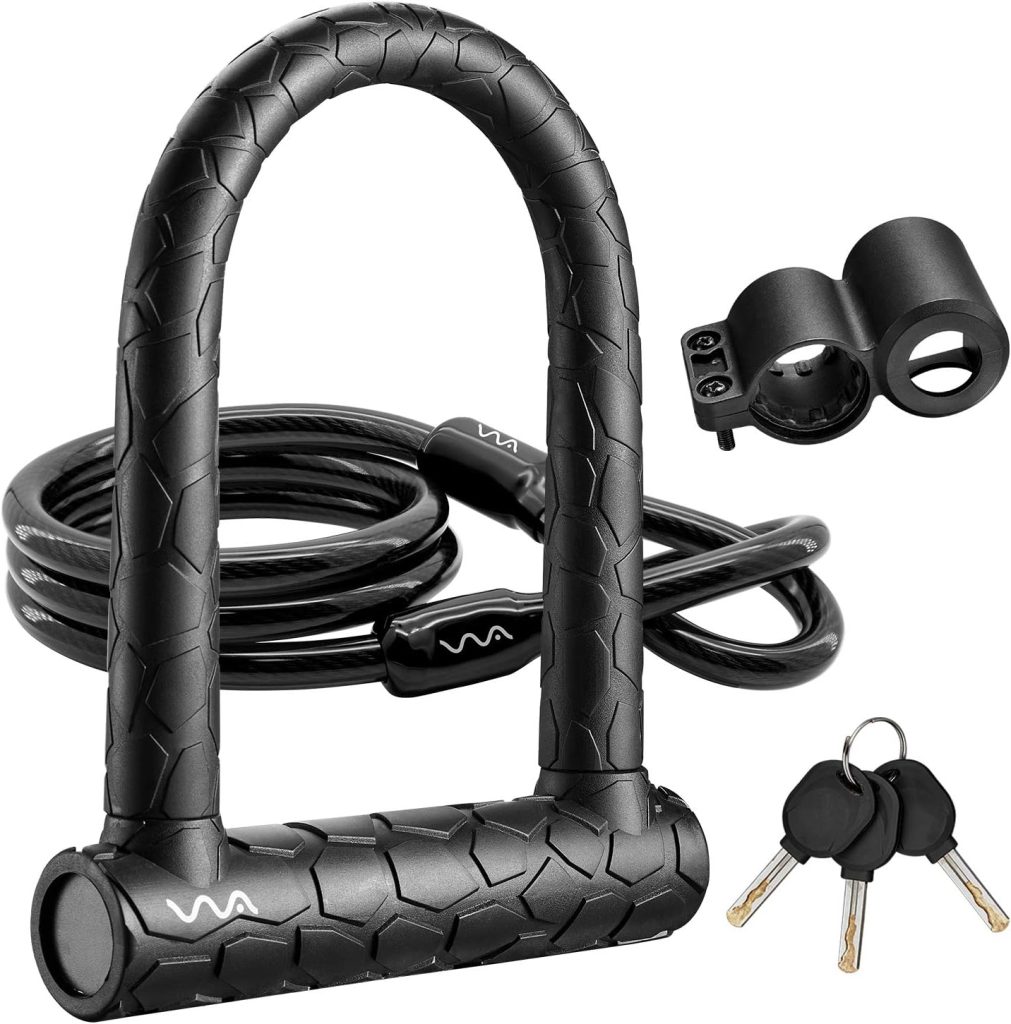 The second best scooter and bike lock that I have here for you is the VVA U lock. It is a premium heavy-duty bike lock with a 0.86-inch shackle. These are built with a combination of Kirsite and Silicone and offer top-notch safety to your bike or scooter. Not just this, the VVA U lock is durable and heat resistant too which ensures advanced protection.
As far as its installation is concerned, this bike lock can be installed effortlessly. It has a 4ft long and 0.45-inch diameter thick steel cable with a mountain bracket. You can easily install this lock without the help of any additional tools. Moreover, this is an 11.42 × 6.3-inch lightweight lock that you can carry with you comfortably anywhere you want.
Additionally, this anti-theft bike lock by VVA has a built-in imported-c-grade pure copper lock cylinder. This lock cylinder is certified to resist leverage attacks and provide excellent anti-theft performance all the time. These are shorter locks, but if you want, you can find the same model in a longer cable too.
For those looking for a budget-friendly but super-safe bike lock, this is the one to go for. Get your hands on the VVA Bike U Lock now.
Another great bike lock choice for you in 2023 is cable locks. This is why I have here the bike cable lock by Master Lock. These are affordable bike locks that are perfect for you if you don't need some high-tech locking system. It comes with a four-digit preset combination that is unique and ensures that your bike is safe all the time.
The Master Lock cable lock is made of braided steel which provides enhanced flexibility. Plus, it has a protective vinyl coating that offers protection from scratching. This lock cable is 1.2m long and has a diameter of 8mm. Since these are keyless locks, you don't have to worry about losing a key here and there.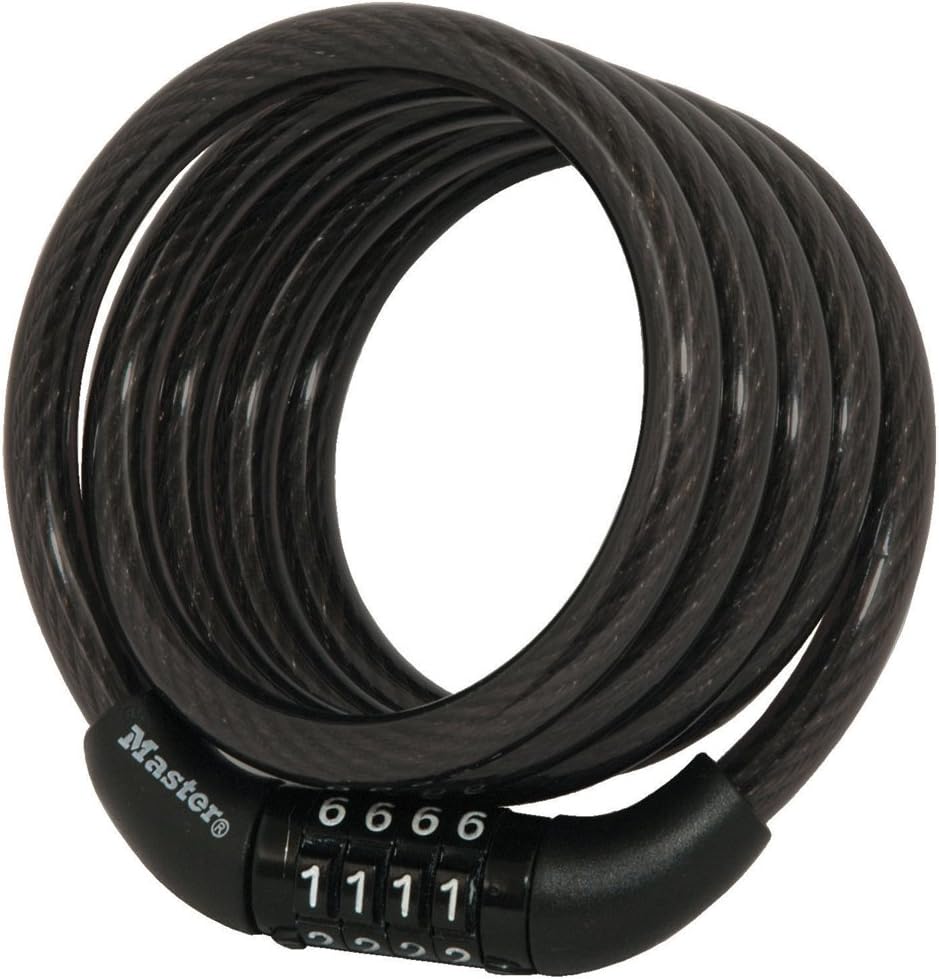 Besides, as mentioned Master Lock cables are flexible, which means they cannot be easily cut, hence offering more safety. These are simply lock systems that are useful for basic security. You can not only lock your electric bikes and scooters, but a lot of other things with these cables, So, you shop for it today and reap its benefits for years to come.
So, what are you waiting for? If you want to protect your bike or scooter from being stolen, buy the Master Lock bike cable.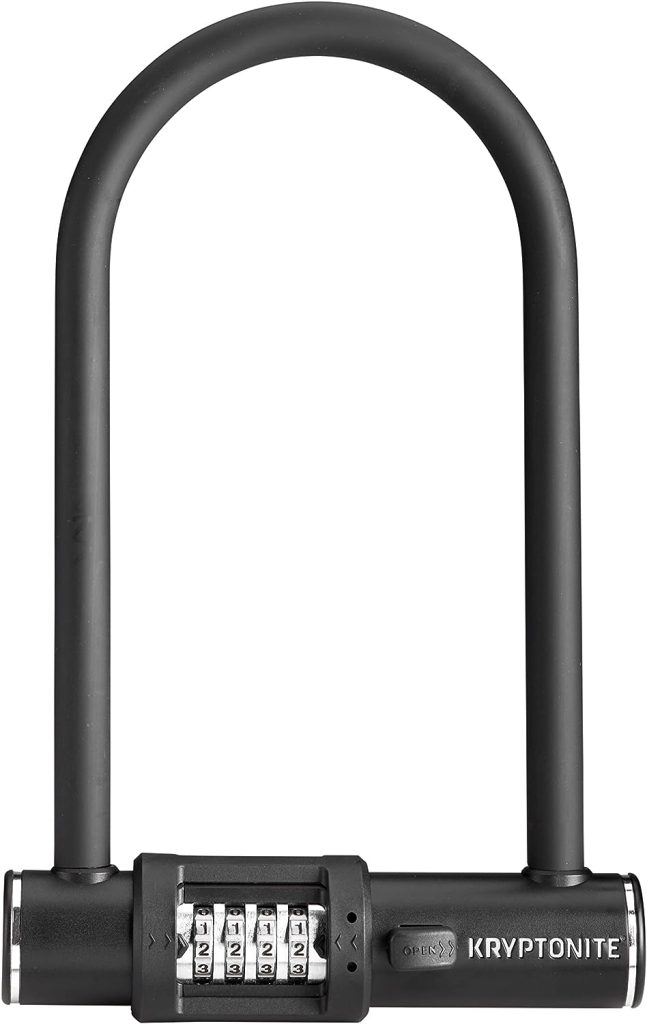 Simple, effective, and affordable, these are the three qualities that majorly define the Kryptonite combo bike U-Lock. It has a durable design along with a 12mm hardened steel shackle for a high level of security. As these are combination locks, you can set up a unique combination for your lock as you like.
But what makes this the best scooter and bike lock is that it has a safe program. According to this, you can safely register your lock combination on Kryptonite's official website. So in case you forget your combination, you can reach out to their customer service team and retrieve your number. They also offer expert customer support for any other problem related to the lock.
The exterior locking dimensions of this lock are 6.5" x 9.5" whereas its interior dimensions are 4″ x 8″. This means it has a pretty standard size for any bike or scooter lock, and thus is portable to be carried without any effort. Also, these are multi-functional locks that can be used for different purposes.
With a lifetime warranty and unmatched customer service, there's no doubt that the Kryptonite bike lock is a wise pick. Order yours today.
The final bike lock on this list is the MYPIN fingerprint padlock with Bluetooth connectivity and app control. It is one of the latest choices in modern bike and scooter locks that you will find in the market. These are waterproof locks which makes it the perfect for all-weather use. Plus, it also provides great value for your money.
You can set up to 40 unique sets of fingerprints on this lock allowing anyone with access to open the lock effortlessly. It is the best feature for you if you, your family, and your friends everybody use a bike regularly. You can authorize access to a few acquaintances and never have to worry about passing on the key or passwords ever.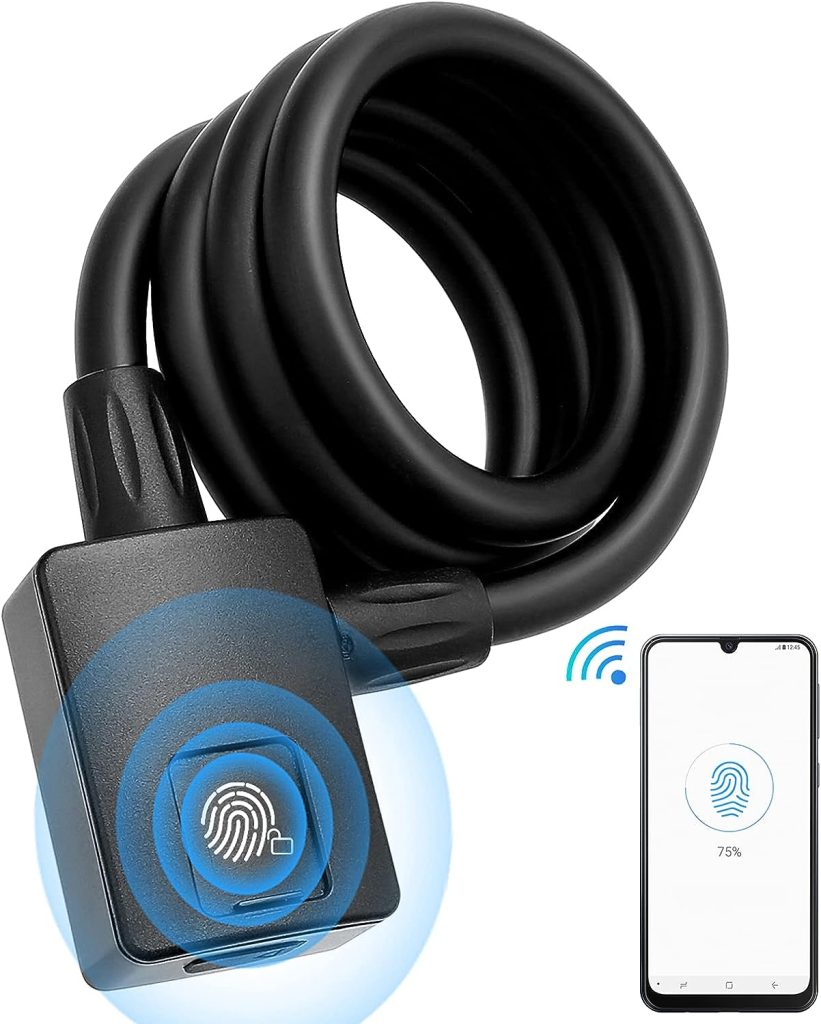 Besides, since it has a flexible curly design, the 100cm long cable will only take up a small space. Also, when you use the lock on your bike, it will appear quite compact. These smart padlocks have a 260MAH lithium battery that provides more than 3000 times unlocking in one single charge.
Strong battery life, smart locking and unlocking feature, and more, there's so much to like about MYPIN's Bluetooth bike lock. Bring this modern bike lock home today.
Wrapping Up
Shopping for the best scooter and bike locks in 2023 is not as easy as you might think. There are so many lock models by different manufacturers available making it hard for you to make a pick. Thanks to this article, you don't have to go through all these countless options anymore.
Here, I have put together a list of some of the top bike locks manufactured by a variety of brands. These have positive reviews from previous owners and have some decent features of their own. So, you can filter out your search and buy one of these locks.
We have here the Via Velo lock set, Kryptonite U-Lock set, and more options. Check them out and make your purchase now.